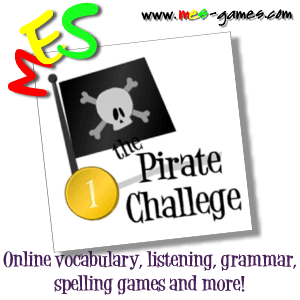 Free online ESL games, grammar games, question and answer activities, vocabulary, spelling
, reading and more. With 14 fun and engaging activities per vocabulary unit, the students will be fully versed after going through each program.
More activities and games to learn English:

There are 14 units per English learning program. There are 2 activities for learning, reviewing or practicing English. There is a click and learn option where students can click on an image and hear the word pronounced. They would then repeat the word. There is also a video option where students can watch a video with each of the vocabulary words being presented.
There are currently 3 vocabulary building games. Students can play a memory game, a time race activity, or Shoot Out. These games have the options of using only audio and images, images and words or written text only.
There are 3 different question and answer activities. These are designed to be conversation games to give students practice with real questions and answers, using the vocabulary to enhance English competence.
Spelling games: There are two activities where students can test or practice their spelling. Collect the Stars is an online spelling game that has the students spell 10 words and earn stars and points for each successful attempt. Missile Defense is an online game that has students look at an image and choose the correct spelling of the word.
There are 3 grammar games that progress in difficulty. There is a basketball game where students can read and choose the correct answer. There is a pirate game where students look at a picture and build the answer or question from the pieces provided. Finally, there is a baseball game where students are given either a question or an answer and have to produce the other to win the game.
MES games has been around since 2002, however, this is a new and improved version of the site. I'm trying to make everything as perfect and smooth as possible for a fun and educational game experience. However, if you find any errors in the games, please send me an email. I'll be happy to fix it right away.
Happy learning!